THE ZIPLINE FOR ALL SEASONS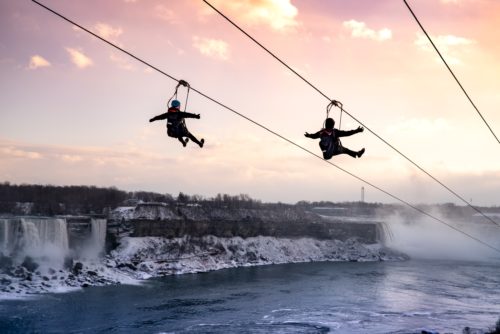 Come experience Niagara Falls' best attraction this spring, summer, fall or winter! Each season brings a unique perspective to the beauty of Niagara Falls, and with that a chance to view its breathtaking scenery aboard our Zipline To The Falls. Come check us off your bucket list!
Our flight without feathers is the coolest way for humans to soar through the sky – now with amazing world famous views of Niagara Falls! With four parallel ziplines facing the American Falls and the mighty Canadian Horseshoe Falls, riders dangle from a thrilling 67 metres (220 feet) high above the Niagara River. Our fully guided experiences adds thrill to the breathtaking panorama as gravity floats riders 670 metres (2200 feet) at speeds up to 70+ kph (40+ mph) along the edge of the famous Niagara River Great Gorge to our Horseshoe Falls Landing and Observation Deck.
In the Spring, visitors from all around the world come to witness the awe-inspiring ice that surrounds the Falls and attempts to break its powerful flow down the Niagara River. Why not capture this impressive ice build up on our exclusive Landing Deck platform? Only Zipliners get access to this area, only 1500 feet from the powerful Falls and at the bottom of the massive Niagara Gorge.
If you are here in the Summer,  the spectacular warm weather of Southern Ontario and bright skies open up beautifully as you take flight. The sight of the sunlight glistening on the water, and the mist that surrounds you as you glide down for your once-in-a-lifetime experience is astounding this time of year. As you pick and choose what activities to do while here, make sure the Zipline to the Falls is one of them. You will not regret it!
Like most of the area, the changing colour of the leaves on the trees and crisp Autumn weather fills the air. It is a season of warm drinks, long walks on fallen leaves, and of course, Ziplining! Whether you are here for a conference, family vacation, or romantic getaway, this time of year is perfect for soaring through the air. Make sure to finish your coffee before your flight!
Some people give us a strange look when seeing our OPEN SIGN during Winter. What they don't know is that it may be the best time of year to Zipline! The area is not busy, the snow is falling, and the Zipline remains open when all others are closed. Don't hesitate, because this little known secret is getting out!
A ONCE-IN-A-LIFETIME EXPERIENCE
Over 300,000 people have already knocked the Zipline to the Falls off their "Bucket List," and so can you! It doesn't matter if you are 7…or 97, this magical experience is truly for everyone. For both the thrill seekers and the hesitant, the Zipline to the Falls represents a hands-free, worry-free, and fully-guided experience like no other in the world.
THE FULLY GUIDED ZIPLINE EXPERIENCE
Our wonderful staff assist you with the entire process, so all you have to do is put your worries away (they can be stored with your loose belongings, in our zip-up harness bag!) and soar. 
From check-in to departure, a staff member is with you the entire process (Except for the ride. That's all you!)
Check-in: We will check you in, provide you with a helmet, and introduce you to your Zipline Host.
Pre-Zipline Experience: Our Zipline Host will guide you to our Launch Deck where you will receive all the necessary information, safety precautions, and fun facts before your flight.
Harnessing: On the Launch Deck, you can observe other guests taking flight, snap some amazing photos of the incredible Falls view and get suited up in your Zipline harness by our staff.
The Ride: Sit back, relax, and enjoy the thrilling ride and incredible panoramic views of the great Niagara Gorge, American Falls and the mighty Canadian Horseshoe Falls.

It is by definition a hands-free ride. Our staff will make sure you gather your belongings at the end of your flight.

Landing Deck: When arriving at the Landing Deck there's no need to put on the brakes. Our fully automated braking system will slow your arrival and landing.
Observation Deck: Here you will enjoy up-close views of the mighty Horseshoe Falls exclusive only to Zipline guests.
Merchandise: Check-out our retail shop and you can take a piece (or pieces) of your Zipline to the Falls experience home with you! This is where you prove to everyone you actually did it!
Zipline Express:

How do you get back up? Well, our Zipline Express all-terrain vehicles will escort you up to the top, and even stop for a photo or two, a view only Zipliners get. Along the way, you will hear some amazing facts about the Falls that you have never heard before.

Share your Experience: Be sure to visit us on TripAdvisor, Facebook, Instagram and more and share your Zipline To The Falls experience with family and friends.
PRICING
Single Flight: $69.99 CAD + taxes and fees per person ($52.99* USD + taxes and fees)
Early Bird Special (Ride before 10AM and save $10!) $59.99 CAD + taxes and fees per person($44.99* USD + taxes and fees)
Family Pass* (Applies to four family members): $239.99 CAD + taxes and fees ($179.99* USD + taxes and fees). A savings of $40!
*Not valid with Early Bird or Night-time Zipline
Night-time Zipline: $79.99 CAD + taxes and fees per person ($59.99* USD + taxes and fees)
*U.S. Exchange Rate subject to change.
ZIPLINE MARCH MADNESS
Select dates March 6-29 only. Please see hours of operation.
Price: "Buy One, Get One FREE!"
NIGHT-TIME ZIPLINE TO THE FALLS!

Have you ever seen the Niagara Falls at night? How about Zipline at night? Well, you are in for a special treat!
Zipline past the American Falls and toward the Canadian Horseshoe Falls, where both sets of Falls are illuminated in a cascade of colors that dance and shine as you fly by! Experience the the thrill of ziplining in the dark, where your senses are heightened and you are totally mesmerized by the panorama of bright colours and spectacle.
WHY ZIPLINE AT NIGHT?
1. Exclusive Fireworks viewing*: During the fireworks display, you can either watch the fireworks on our exclusive Launch Deck viewing platform, or choose to stay at our Landing Deck to watch the fireworks above.
2. Souvenir: All riders enjoy a complimentary light-up wristband souvenir. We need these to see you, but after you are done, you can show it to everyone!
3. Heightened Experience: Since you are Ziplining at night, your view will be focused squarely on the beautifully lit Niagara Falls. This makes this experience all the more memorable, providing a wonderful, dream-like ride that you will not forget!
*The Zipline does not operate during the fireworks display for security purposes. Guests will be launched before and after the display, and shuttles will not run during the display.
A fireworks display over the majestic Niagara Falls is scheduled throughout the Spring, Summer, Fall, and Winter. Please visit the Niagara Parks website for more details:
https://www.niagaraparks.com/events/event/niagara-falls-fireworks-series/
What You Need To Know
Minimum age to ride is 7.
Maximum total weight limit is 275lbs (124kg) per ride.
Chaperone requirements:

A responsible adult must accompany children aged 13 or younger to the Launch Deck and meet them at the end of their experience.

Clothing must be fitted and secure, hair must be tied-back.
Looking to take an action camera on the zipline? Make sure you bring helmet, chest, or wrist mounts and straps that are secure. Will be reviewed by staff on-site.
All loose items, including keys, wallet, and small bags will go into your zipline harness so you can ride down with everything!

A signed online waiver is required for each guest. A Parent or legal guardian signature is required for each minor guest (under 18 years of age).

All guests must wear a helmet that is provided to them by WildPlay Niagara Falls. This helmet must fit securely to your head with the strap done up under your chin. Please note that this requirement cannot be waived and that not all turbans and religious headdresses may be compatible with our helmets. Guests are welcome to try on the helmets on site prior to purchase
*Please note that the US Dollar exchange rate is subject to change. All credit card payments will be processed in Canadian funds and converted by banking institutions.