Open for the Fall and Winter!
Come and witness the breathtaking beauty of the snow and ice of the Niagara Falls with a flight without feathers! Let the coolness of the air and nature's wonder fill your spirit as you soar passed the beautiful Falls. Come by and check us off of your bucket list!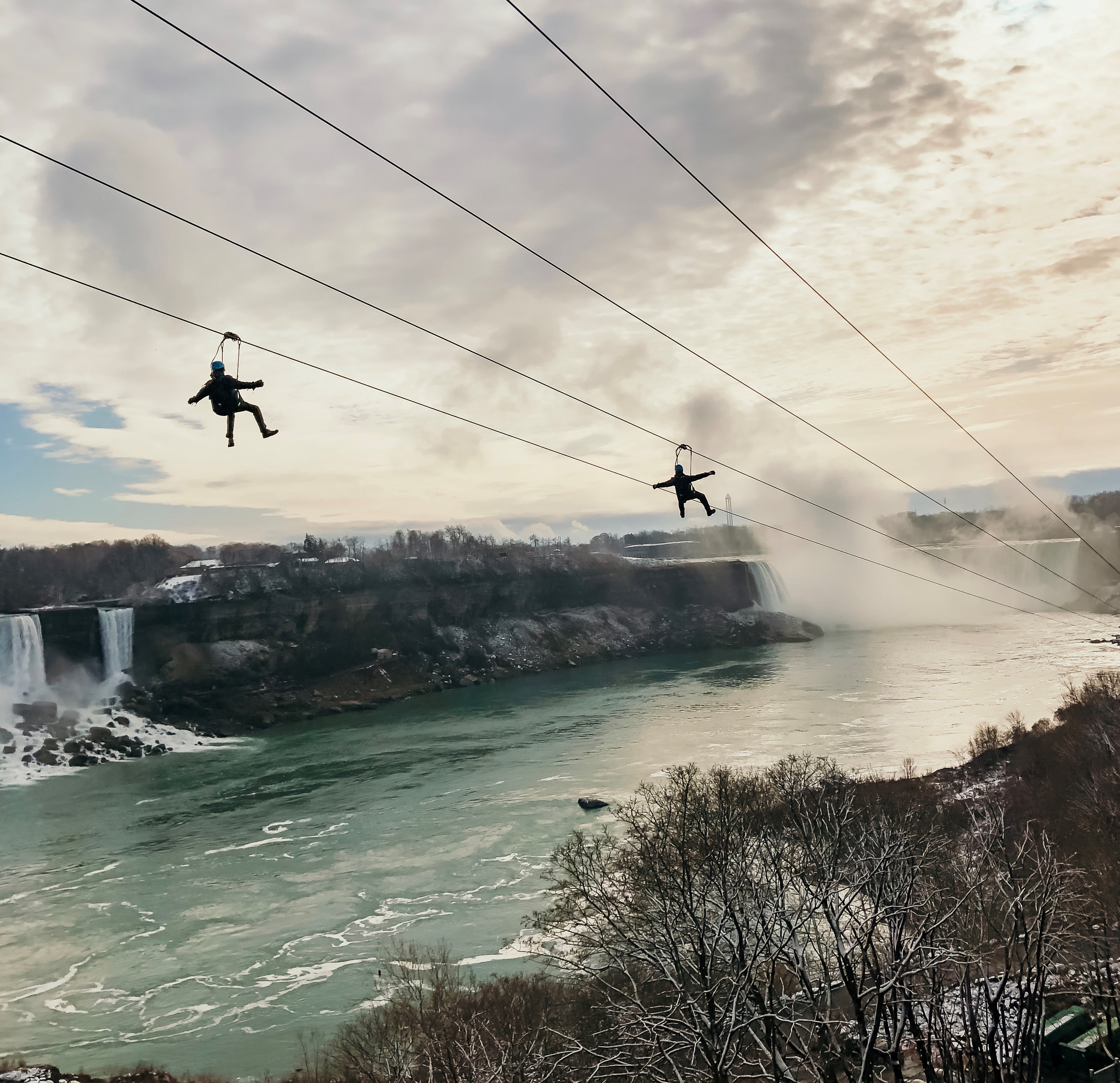 Our flight without feathers is the coolest way for humans to soar across the sky – now with amazing world wonder views in Niagara Falls! On four parallel ziplines that face the American and Canadian Horseshoe Falls, riders dangle from a precarious 67 metre (220 foot) high vantage point. Our fully-guided experience adds thrill to the breathtaking panorama as gravity floats riders 670 metres (2,200 feet), at speeds of 70+ kph (40+ mph), along the edge the vast Niagara river gorge to the Falls observation landing.
During this beautiful, crisp autumn season, riders get to experience a breathtaking view of the changing tree colours along the Niagara Gorge. Feeling the cool autumn breeze soaring past the Niagara Falls is truly a unique outdoor experience like no other. Come and see why the Zipline to the Falls in the fall is better than a pumpkin spice latte!
Pricing
Single Flight: $69.99 + Taxes and fees Canadian ($52.99* + Taxes and fees US Dollars)
Ask about our Early Bird Special – Ride before 10 AM and save $10 per person! $59.99 + Taxes and fees Canadian ($44.99* + Taxes and fees US Dollars) Only Until September 3rd!
Family Pass – Four Riders for only $239.99 + Taxes and fees Canadian ($179.99* + Taxes and fees US Dollars) SAVE $10 per person. Not applicable for Early Bird Special or Night-Time Zipline.
Contact our Reservation Centre at 1-800-263-7073 for bookings.
Zipline MARCH MADNESS
Select dates March 6-29 only
Price: "Buy One, Get One FREE!"
30 minutes to 1 hour / Age 7+ / Easy (remains unchanged)
Enjoy WildPlay's Zipline for all seasons. Experience the awe-inspiring ice and lingering winter beauty that surrounds the Falls and mighty Gorge aboard our exhilarating Zipline To The Falls. You'll soar 220 feet above the Niagara River Gorge and sail 2200 feet to our Falls Landing & Observation Deck at the foot of the mighty Canadian Horseshoe Falls.
NIGHT-TIME ZIPLINE TO THE FALLS

For the first time ever, you can now zipline Niagara Falls at night! On four parallel ziplines that face the American and Canadian Horseshoe Falls, illuminated in a cascade of colors, riders will experience the thrill of ziplining after dark. Senses are heightened after sunset as riders experience the thrill and breathtaking panorama. All riders will receive a complimentary light up wristband souvenir. Enjoy the illumination of Niagara Falls as well as the scheduled fireworks display. The zipline does not operate during the fireworks display for security purposes. A fireworks display over the majestic Niagara Falls is scheduled every evening at 10PM through September 3, and every Friday, Saturday, and Sunday from September 7 through October 7 with an additional display on Canadian Thanksgiving (October 8).
Pricing
Single Night-Time Illumination Flight: $79.99 + Taxes and fees Canadian ($59.99* + Taxes and fees US Dollars)
Please note that minors (those under the age of 14) must have someone 18 years or older accompany them on Night-Time Zipline to the Falls. 
What You Need To Know
Minimum age 7.
Maximum total weight limit is 275lbs (124kg) per ride.
Chaperone requirements: A responsible adult must accompany kids age 13 and younger on site.
Clothing must be fitted and secure, hair must be tied-back.
Looking to take an action camera on the zipline? Make sure you bring helmet, chest, or wrist mounts and straps that are secure. Will be reviewed by staff on-site.
All loose items, including keys, wallet, and small bags will go into your zipline harness so you can ride down with everything!
A signed online waiver is required for each guest (Parent/legal guardian signature is required for each minor guest).
All guests must wear a helmet that is provided to them by WildPlay Niagara Falls. This helmet must fit securely to your head with the strap done up under your chin. Please note that this requirement cannot be waived and that not all turbans and religious headdresses may be compatible with our helmets. Guests are welcome to try on the helmets on site prior to purchase
*Please note that the US Dollar exchange rate is subject to change. All credit card payments will be processed in Canadian funds and converted by banking institutions.