THE ZIPLINE FOR ALL SEASONS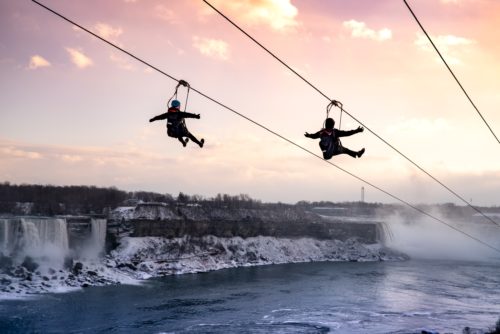 Come experience Niagara Falls' best attraction this spring, summer, fall or winter! Each season brings a unique perspective to the beauty of Niagara Falls, and with that a chance to view its breathtaking scenery aboard our Zipline To The Falls. Come check us off your bucket list!
Our flight without feathers is the coolest way for humans to soar through the sky – now with amazing world famous views of Niagara Falls! With four parallel ziplines facing the American Falls and the mighty Canadian Horseshoe Falls, riders dangle from a thrilling 67 metres (220 feet) high above the Niagara River. Our fully guided experiences adds thrill to the breathtaking panorama as gravity floats riders 670 metres (2200 feet) at speeds up to 70+ kph (40+ mph) along the edge of the famous Niagara River Great Gorge to our Horseshoe Falls Landing and Observation Deck.
In the Spring, visitors from all around the world come to witness the awe-inspiring ice that surrounds the Falls and attempts to break its powerful flow down the Niagara River. Why not capture this impressive ice build up on our exclusive Landing Deck platform? Only Zipliners get access to this area, only 1500 feet from the powerful Falls and at the bottom of the massive Niagara Gorge.
If you are here in the Summer,  the spectacular warm weather of Southern Ontario and bright skies open up beautifully as you take flight. The sight of the sunlight glistening on the water, and the mist that surrounds you as you glide down for your once-in-a-lifetime experience is astounding this time of year. As you pick and choose what activities to do while here, make sure the Zipline to the Falls is one of them. You will not regret it!
Like most of the area, the changing colour of the leaves on the trees and crisp Autumn weather fills the air. It is a season of warm drinks, long walks on fallen leaves, and of course, Ziplining! Whether you are here for a conference, family vacation, or romantic getaway, this time of year is perfect for soaring through the air. Make sure to finish your coffee before your flight!
Some people give us a strange look when seeing our OPEN SIGN during Winter. What they don't know is that it may be the best time of year to Zipline! The area is not busy, the snow is falling, and the Zipline remains open when all others are closed. Don't hesitate, because this little known secret is getting out!
A ONCE-IN-A-LIFETIME EXPERIENCE
Over 300,000 people have already knocked the Zipline to the Falls off their "Bucket List," and so can you! It doesn't matter if you are 7…or 97, this magical experience is truly for everyone. For both the thrill seekers and the hesitant, the Zipline to the Falls represents a hands-free, worry-free, and fully-guided experience like no other in the world.
THE FULLY GUIDED ZIPLINE EXPERIENCE
Our wonderful staff assist you with the entire process, so all you have to do is put your worries away (they can be stored with your loose belongings, in our zip-up harness bag!) and soar. 
From check-in to departure, a staff member is with you the entire process (Except for the ride. That's all you!)
Check-in: We will check you in, provide you with a helmet, and introduce you to your Zipline Host.
Pre-Zipline Experience: Our Zipline Host will guide you to our Launch Deck where you will receive all the necessary information, safety precautions, and fun facts before your flight.
Harnessing: On the Launch Deck, you can observe other guests taking flight, snap some amazing photos of the incredible Falls view and get suited up in your Zipline harness by our staff.
The Ride: Sit back, relax, and enjoy the thrilling ride and incredible panoramic views of the great Niagara Gorge, American Falls and the mighty Canadian Horseshoe Falls.

It is by definition a hands-free ride. Our staff will make sure you gather your belongings at the end of your flight.

Landing Deck: When arriving at the Landing Deck there's no need to put on the brakes. Our fully automated braking system will slow your arrival and landing.
Observation Deck: Here you will enjoy up-close views of the mighty Horseshoe Falls exclusive only to Zipline guests.
Merchandise: Check-out our retail shop and you can take a piece (or pieces) of your Zipline to the Falls experience home with you! This is where you prove to everyone you actually did it!
Zipline Express:

How do you get back up? Well, our Zipline Express all-terrain vehicles will escort you up to the top, and even stop for a photo or two, a view only Zipliners get. Along the way, you will hear some amazing facts about the Falls that you have never heard before.

Share your Experience: Be sure to visit us on TripAdvisor, Facebook, Instagram and more and share your Zipline To The Falls experience with family and friends.
PRICING
Single Flight: $69.99 CAD + taxes and fees per person ($52.99* USD + taxes and fees)
Early Bird Special (Ride before 10AM and save $10!) $59.99 CAD + taxes and fees per person($44.99* USD + taxes and fees)
Family Pass* (Applies to four family members): $239.99 CAD + taxes and fees ($179.99* USD + taxes and fees). A savings of $40!
*Not valid with Early Bird or Night-time Zipline
Night-time Zipline: $79.99 CAD + taxes and fees per person ($59.99* USD + taxes and fees)
*U.S. Exchange Rate subject to change.